Car Accident Lawyer In Temecula
Personalized Representation For Auto Accidents in Temecula & Hemet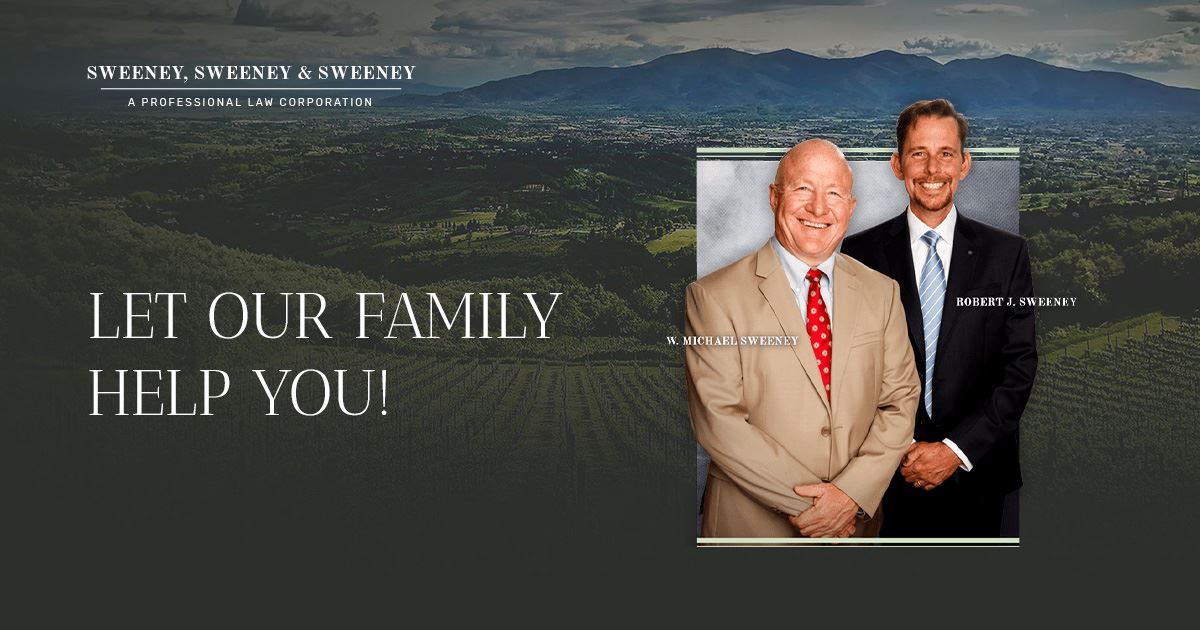 Sweeney, Sweeney & Sweeney, APC is an experienced and aggressive personal injury law firm devoted exclusively to representing injury victims. As committed car accident lawyers in Temecula, we have obtained millions of dollars for our clients in a variety of settlements and awards.
If you or a loved one has been injured in a car accident in the Riverside County area, please contact our experienced Temecula car accident attorneys today for a free consultation about your case.
Although we have helped many individuals struggling after a car accident, we understand that each situation is unique and make sure to treat each injury case as such.
Get started right away by calling our car accident attorneys in Temecula at (951) 800-7731 or contacting us online.
Personalized Legal Representation for Motor Vehicle Accident Victims
We are a family-owned firm with the decades of experience necessary to protect your rights and provide the professional representation you need and deserve. A key difference between our firm and other lawyers is our ability to offer a level of personal attention that is unmatched in our business.
Sweeney, Sweeney & Sweeney is dedicated to helping people in California, including Temecula, Murrieta, Lake Elsinore, Wildomar, Menifee, Sun City, Perris, Hemet, and San Jacinto.
---
Client Testimonial
"Thank you for being there for me when I needed help the most. Thank you so much for the outstanding legal assistance you've extended to me."
---
All of our clients with car accident claims are charged on a contingency basis, which means that an attorney from our firm is paid only if he recovers monetary damages for you.
Car Accident Injuries and Compensation
Injuries suffered in car accidents can be severe and life-altering. We understand that, after going through such trauma, your immediate goals are to get better, get your medical bills paid, make sure you do not suffer financially through any lost wages, and make sure the responsible insurance company will pay for future treatment relating to your injury.
Common car accident injuries include:
Neck pain
Whiplash
Back pain
Burns
Scars
Traumatic brain injury
Nerve damage
Spinal cord damage
Paralysis
Broken or dislocated bones
Internal bleeding
Loss of a limb or limbs
Generally, drivers must exercise "reasonable care under the circumstances." Failure to use reasonable care is considered negligence. If you have been injured in a motor vehicle accident, you are entitled to recover monetary damages for the full extent of your loss.
How Much Are Car Accident Settlements?
Car accident victims may be entitled to compensation for:
Property damage
Medical bills
Loss of Wages and Future Earning Capacity
Pain and Suffering
An experienced lawyer from our team will discuss your situation and go over the options available to you, as well as work with insurance companies and other parties involved in your case to make sure all of your needs are handled quickly and efficiently.
Common Causes of Car Accidents
Every 10 seconds, someone in the United States is in a car accident, according to the National Highway Traffic Safety Administration (NHTSA). As you would expect, cases arising out of automobile accidents are by far the most common type of personal injury case in our court system today.
Many factors can lead to an auto accident injury, such as:
Speeding and Other Negligent driving
Driver Fatigue
Rubbernecking
Child/Passenger distraction
Texting and Other Cellphone Use
Hazardous Road or Weather conditions
Poorly Maintained or Repaired Vehicles
Vehicles with defective equipment
There are a number of factors that contribute to auto accidents and determining liability can be extremely difficult. It is in your best interest to contact an attorney as soon after an accident as possible.
Compensation for Victims of DUI Accidents
Every 30 minutes, someone in this country dies in an alcohol-related crash. Over 1 million people were injured in alcohol-related traffic crashes last year. In a lawsuit arising from a drunk driving accident —in addition to the intoxicated driver being held liable for the injuries he or she caused — a bar or social host may also be liable for damages caused in the accident.
The fact that a person who served the intoxicated driver alcohol may be held liable does not relieve the intoxicated driver of liability. At Sweeney, Sweeney & Sweeney, APC, the qualified car accident lawyers in Temecula know the laws governing legal responsibility for car accidents and will help you identify who might be held responsible for your injuries, including people or businesses you may not have considered.
California Statute of Limitations for Car Accidents
If you have been injured in a car accident in California, the statute of limitations to pursue legal action is two years from the time of the accident.
How Can A Car Accident Attorney In Temecula Help You?
Having a motor vehicle accident lawyer to support you after a car accident is extremely important. Not only is a Temecula car accident attorney a legal expert who will effectively negotiate with insurance companies and maximize your compensation amount, but he or she can also serve as a great emotional support system for you after your accident.
A motor vehicle accident attorney will help you in the following ways:
Compensation: Maximize your compensation amount
Effective Negotiation: Negotiate with insurance companies on your behalf
Mistake Prevention: Help prevent you from making costly mistakes
Protection: Help to ensure that your rights and your future are protected
Evidence: Gather evidence to defend your case
Paperwork: Take care of the paperwork associated with your case
Legal Guidance: Provide you with important legal advice
Fierce Representation: Represent you in court
Emotional Support: Offer you emotional support and reassurance
Contact us online to learn more about how we can help you, and to schedule a free initial consultation with our car accident lawyers in Temecula.
Our Temecula Car Accident Lawyers Are Ready to Help
Each car accident lawyer in Temecula from Sweeney, Sweeney & Sweeney, APC wants to ensure that you are fairly compensated for your losses, even if the collision was partially your fault. Insurance companies will seek to deny claims, avoid liability, and inaccurately assess the value of your case.
Accident victims and their families face challenging situations that are further complicated by complex California insurance laws and legal issues. Without the advocacy of an aggressive and effective attorney, you may risk losing the full value of your case and even forfeit valid claims.
Suggested Reading:
Contact a Temecula car accident lawyer from Sweeney, Sweeney & Sweeney, APC today. Dial (951) 800-7731 now.
Questions? We Have Answers!
Should I provide a recorded statement to the insurance company?

It is our strong recommendation that this not be done without legal representation so as not to jeopardize your claim. The reality is that insurance claims adjusters are skilled at asking questions that are designed to result in the reduction or denial of your claim. Insurance companies are businesses, and they are in business to make money. Their lawyers often try to use recorded statements in order to minimize or deny the value of accident claims. You need us to help you.

Should I inform the other party's insurance company about the accident?

To pursue the claim, the other party's insurance company needs to be contacted. However, the other party's insurer — and likely your insurer — may take something that you said and manipulate your statement in order to minimize or altogether deny your accident claim. Again, contact us as soon as possible after your accident, as we can handle any further communication with the insurance companies to ensure no misunderstandings occur and you claim is not jeopardized. Also, if the other party's insurer contacts you for information, you are not obliged to make any statements. Instead, refer the insurer to your attorney.

Should I inform my insurance company that I was involved in a crash?

Yes. Waiting to notify your insurer could result in your accident not being covered. However, when you contact the insurance company, provide only the facts of the case and avoid making any statements about who was at fault. You should contact a personal injury lawyer before making any more statements to the insurance company.
Testimonials
What Our Clients Say About Us
"Outstanding attorneys who are trustworthy, fair and honest."

Very professional office with great service.

- Robert P.

"We are impressed with your demeanor, your expertise and your patience in explaining all aspects of the case."

Thank you for your efforts and expertise in all the hours you spent in settling our case.

- Pauline B.

"Having Sweeney, Sweeney & Sweeney in my corner throughout the entire process gave me great peace of mind."

From the intake of the facts of my situation through to the final resolution with the insurance company, they covered every base.

- Former Client

"Thank you so much for the manner in which you and your staff handled my claim."

I am pleased with what I consider to be a fair settlement.

- Corolean S.

"Excellent service, courtesy, great personalities, and exceptional professionalism!"

I certainly know who to go to if I'm ever in need.

- Joyce J.

"I feel grateful that there are people in the business of protecting the rights of victims when someone caused the accident."

Thank you for the professional manner in which everything was handled.

- Caryl S.

"Thank you so much for the outstanding legal assistance."

Thank you for being there for me when I needed help the most!

- Eleanor C.

"I really appreciate your honesty and everything you have done for me."

I really appreciate your honesty and everything you have done for me. God bless you and thank you.

- Esmeralda T.